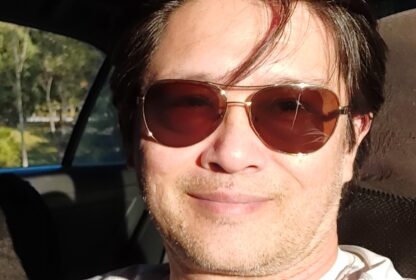 We're really (really) picky about who we send to your business or event.
Our massage therapy practitioner partners tick all the boxes…
Professionally trained
Professional indemnity insurance
Senior first aid certification
National police check
Membership of industry associations
… but with Seated Massage, safe hands are just the start and this is what sets us apart from the rest.
We only partner with massage therapy practitioners who live and breathe the Seated Massage values of integrity, passion and purpose. This is how we bring the best people in our industry into your business or event, and why we know you'll be glad you chose Seated Massage.
Seated Massage is a member of The Association of Massage Therapists and The Australian Traditional Medicine Society, national industry associations representing qualified and student practitioners. All our massage therapy practitioner partners hold massage association membership of at least one state/territory body.
What our practitioners do
Our massage therapy practitioners are among the most experienced corporate massage providers in Australia. Their mission is simple: to make people feel good about themselves.
Once your booking has been confirmed, we get your therapist(s) up to speed with your business or event, and what you want to achieve from providing massage therapy.
Practitioners arrive and are set up and ready to give their first massage by the booked start time, bring everything they need and do all the set up. They take responsibility for all safety precautions for massage therapy, and follow the Seated Massage Safe Massage Therapy Protocols and Procedures to make sure your people have a great experience.
Our practitioners are experts in chair massage and table massage in workplaces and at large events. When quick roving massage is what you're after, our practitioners efficiently and professionally make sure everyone who wants a massage, gets one, with minimal disruption to their day.
What our calibre of practitioners means for our clients
Many corporate massage services operate more like a delivery service than a customised wellbeing program. We're different. We're picky: our massage therapy practitioners go through in-depth training and screening before we bring them onboard. We're the first nation-wide supplier of corporate massage, but still the most personalised, so you can trust that we only send practitioners who are a good fit for your business/event.
Our massage therapists are doing meaningful work across Australia.
Our massage therapists love what they do, and know that the impact of their work extends beyond the walls of your workplace. People who love their job perform better, so… everyone wins, including your team!
"I first joined the Seated Massage team in early 2005. During my 17 years of working with Lena and Stu, I've always felt welcomed and valued within their network of practitioners. They have exceptional attention to detail with every job, making sure that not only is the client getting an amazing massage service but also the staff are working in a fabulous supported team working environment as well.

They always strive to be the best in the industry while maintaining the highest quality standards in their business practices and in their personal ethics of wanting to help create a better planet for all. Their commitment to reducing their carbon footprint and their initiatives with providing meals for those in need through OzHarvest is commendable. I've loved every 17 years of working with these awesome people and I look forward to many, many more."
– Nicola, Practitioner
Get an instant estimate, make an enquiry, or
book now.
We'll ask a few quick questions to get to know your business better, and then give you an instant estimate based on the details you provide. If you need to provide information to others to give the go-ahead on your Seated Massage booking, you'll get a detailed proposal when you complete the form below – we make this as simple as possible for you!
Got questions? If you prefer to discuss your needs with a real person, call us on 1300 891 343. If you email us, please be as detailed as possible.
Completing the form is the fastest way to receive an instant estimate and request a booking or detailed proposal. Please note that submitting a booking request isn't a guaranteed booking. Bookings are subject to availability and we'll be in touch to discuss and confirm your booking.