As Australia's only Certified B Corp massage provider, Seated Massage Adelaide is the trusted solution for organisations and events in South Australia wanting to go above and beyond to show people they're valued and supported.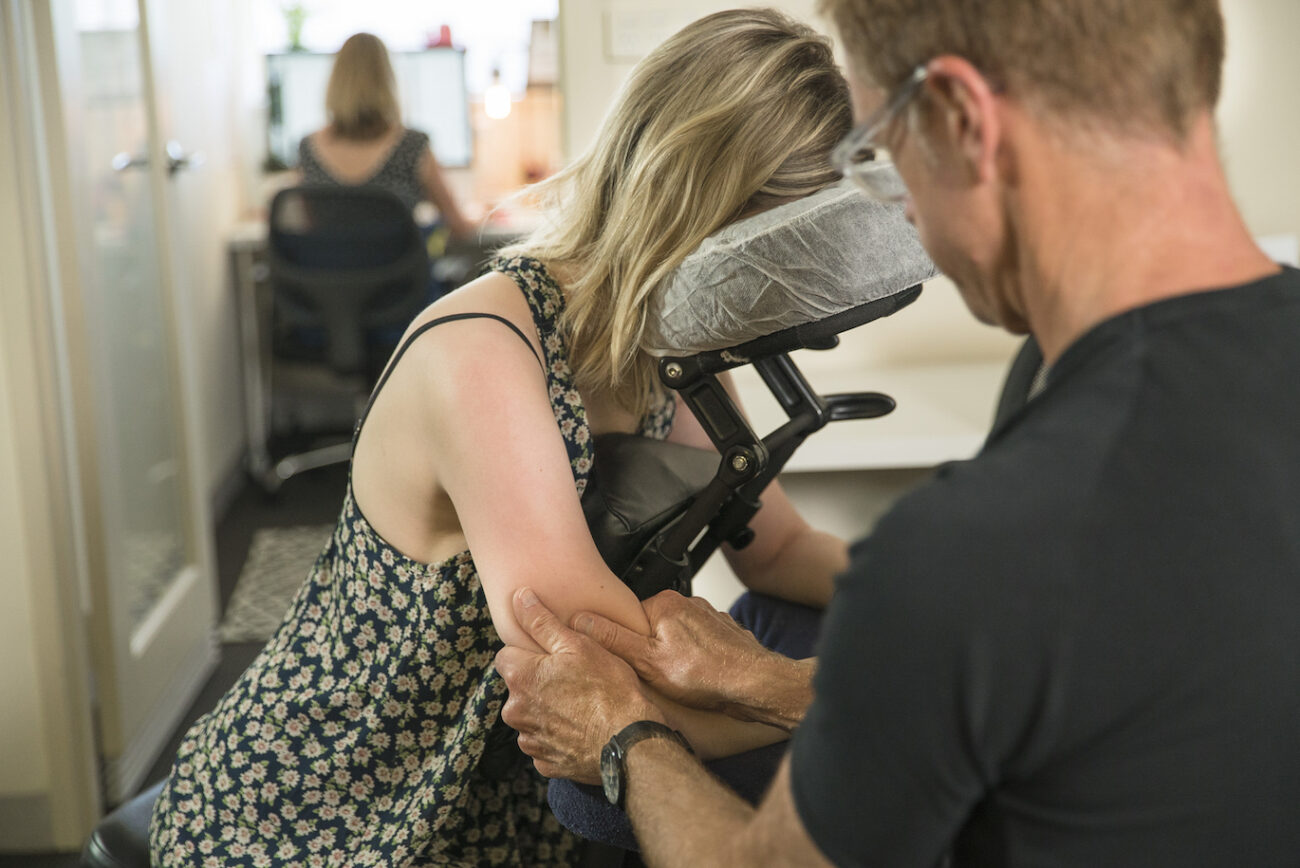 Seated Massage Adelaide has been the HQ of our business since 2009, when our founders relocated from Sydney to the beautiful Adelaide Hills and introduced South Australian businesses to our industry leading corporate massage.
Home to innovators, entrepreneurs, a thriving small business community and some of Australia's best conference venues (big and small), Adelaide has been the perfect base for Seated Massage to grow into a powerful force for good. It's where we became a B Corp, after being introduced to the idea by someone else in The Hub co-work space, when that was the office HQ of Seated Massage.
Adelaide is also where we proudly provide wellbeing through massage at workplaces and events across the city, suburbs and surrounds.
What Seated Massage Adelaide do
Our practitioners provide the best workplace massage Adelaide has to offer for all types of businesses, from large software firms to local real estate agencies and everything in between. We're passionate about helping South Australians unwind, reset and feel rejuvenated – both physically, mentally and emotionally. 
Seated Massage Adelaide options include our popular chair massage services, as well as roving office massages and table massage. Looking for corporate or community event massage (Adelaide city and metro)? We do that too.
Our practitioners follow our Safe Massage Therapy Procedures and Protocols to keep everyone healthy and happy.
Show people how much your business cares.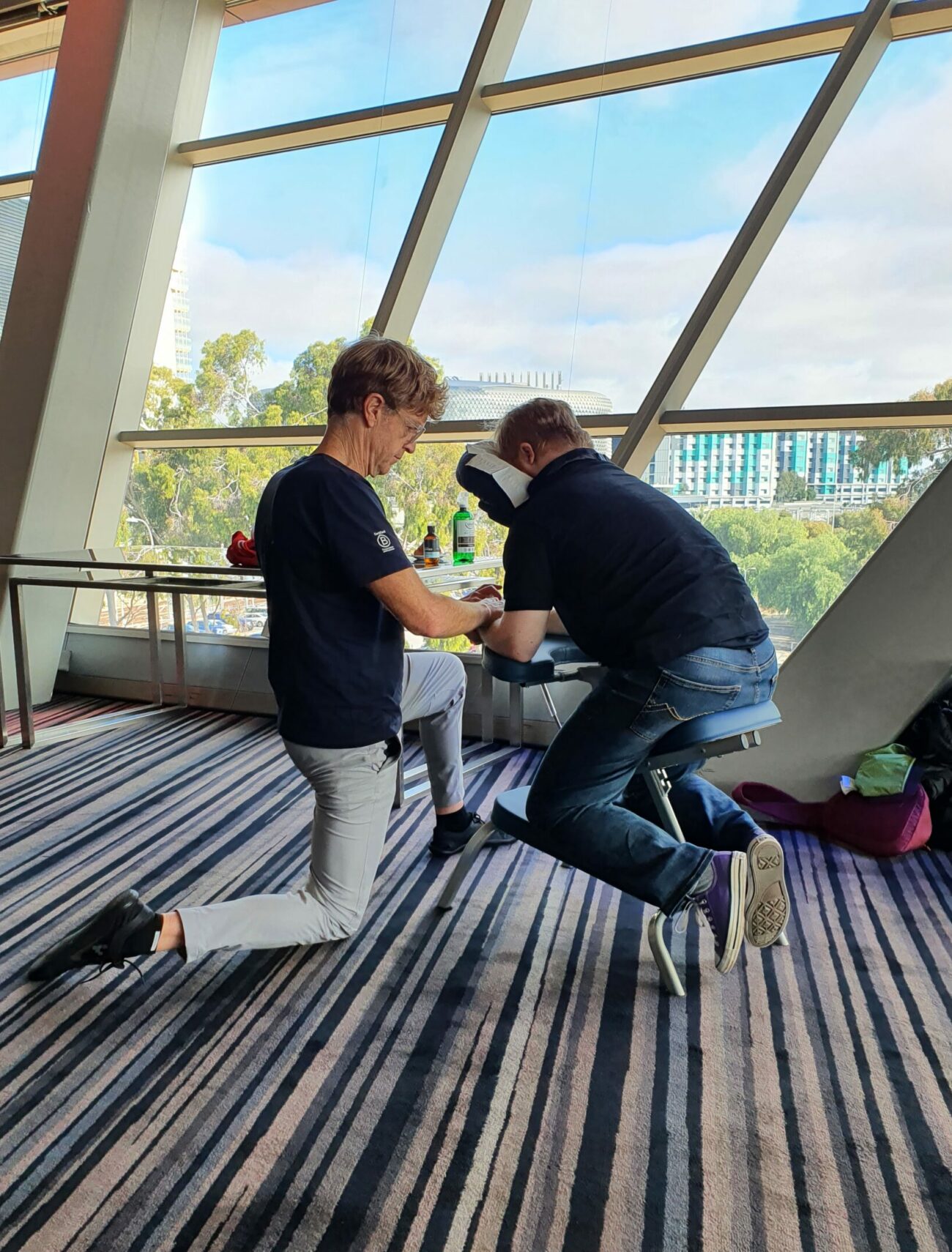 Whether it's for an event or office massage, Adelaide locals love us
We are proud to be the supplier of choice in South Australia for conferences and workplace massage. Adelaide businesses of all sizes across the profit and non-profit sector trust us to come to their workplaces and events and make their people feel fantastic. 
Past and present Adelaide clients include Beyond Bank, BAE Systems, Newday Leadership, Australian Fitness Supplies, Thrifty, Borderline Personality Disorder Collaborative, NGS Super, Hutt St Centre, St Peters College and Aboriginal Family Support Services, just to name a few.
When we're not in our Adelaide office, we're often spotted working out of one of our favourite coffee shops: Argo on the Parade, and Uraidla Republic Cafe, Bakery & Brewery in the Adelaide Hills. We honestly can't think of a better place to sit down, brainstorm new ideas, and organise event and workplace massages. Adelaide is spoiled for choice when it comes to a good coffee, so if you ever see us (and Poppy!), please say hello!
You're in good company
85% of Seated Massage clients choose recurring visits for maximum impact.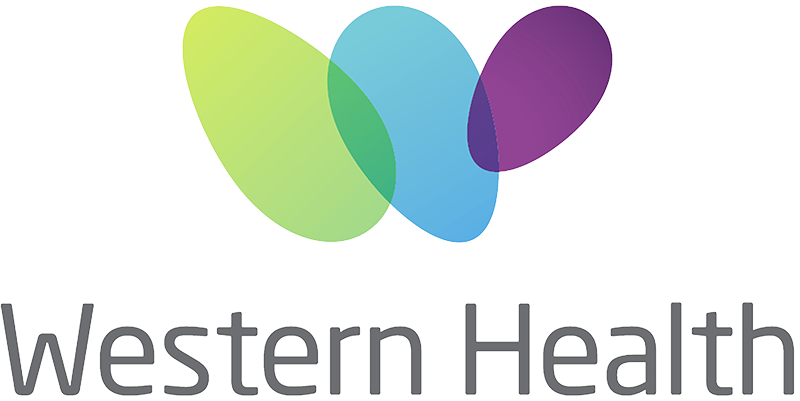 Seated Massage success stories.
Get an instant estimate, make an enquiry, or
book now.
We'll ask a few quick questions to get to know your business better, and then give you an instant estimate based on the details you provide. If you need to provide information to others to give the go-ahead on your Seated Massage booking, you'll get a detailed proposal when you complete the form below – we make this as simple as possible for you!
Got questions? If you prefer to discuss your needs with a real person, call us on 1300 891 343. If you email us, please be as detailed as possible.
Completing the form is the fastest way to receive an instant estimate and request a booking or detailed proposal. Please note that submitting a booking request isn't a guaranteed booking. Bookings are subject to availability and we'll be in touch to discuss and confirm your booking.